I went to the Goodwill last week. I rarely look at the furnitures since I don't have anymore room for any. The hubby goes to the back of the store looking for tools. He is the one who saw it and called me to get a look at it. Funny because he is always asking me where I am going to put my purchases. So we talk about it and decide to wait. During that weekend and the week, we reorganized the garage. We went back on Saturday and it was still there. So we took it as a sign that it was meant to be ours. Our plan worked and I have all my Christmas dishes in one place. It was worth the $24.99 we spent.
One drawer was missing and the other was broken. We put a piece of wood on the bottom to hold all the Christmas plates.
I am kidding myself that by seeing all my Christmas stuff all year long that I may stop from purchasing any more. Yeah right. Sorry I didn't take more pictures and the quality. They are all from my cell phone.
I will be linking up with Linda @ Coastal Charm for Nifty Thrifty Tuesday. Be sure to visit her blog to see everyone's thrifty finds this week.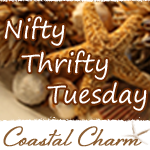 Have a good week.